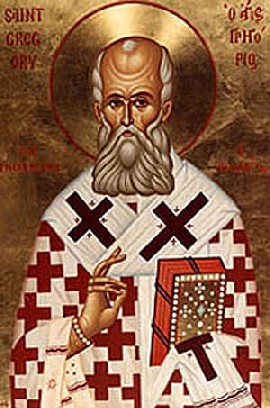 Ss. Basil, Great & Gregory Nazianzen (02 Jan 2007)
1Jn 2.22-28; Ps 98; Jn 1. 19-28
Homily of Fr. Paul Panaretos, S.J.
Our Life
S
s. Basil and Gregory, whom the church honors with this day, lived in the 4th century. Christians of that time were formulating their faith. Faith was evolving. In the heady years of these university classmates, who became close friends, some didn't hold that the Word of God was fully divine. Basil and Gregory were two who expended all their energies that the Word of God was fully divine and that each also was a distinct Person of the Trinity.
In a way these saints are Christmas saints. They pondered the Word and welcomed the Word as fully God. We look at the crèche and see an infant. Do we also see God as well?
My question isn't rhetorical because the wonder of the Incarnation demands a response from us as much as it invites us to draw close to God who draws close to us. Our response cannot only be mental nod in the affirmative. To respond to the infant as well as the man Jesus and to him as risen Lord means shaping our behaviors in certain ways.
This is what we will be hearing in the first reading this final week of the Christmas season. The First Letter of John describes a situation very early in Christian history in which two groups--
God's children
and those who belong to
the liar
, to use the letter's own vocabulary--claimed relationship with Christ Jesus.
We don't know the group of
the liar
, the
antichrist
, and we cannot know with any precision what their belief was. We can know from the elder who writes to God's children that believing alone is complacent faith, and complacency weakens faith. Confessing the Son and his Father is never enough. Being faithful is living the anointing we receive from Jesus' own Spirit. Being faithful lives in ways that abide in Jesus, who taught us how to practice our faith in our daily living. Not to practice our faith makes us people who do not recognize Jesus in our midst, often as silent and unassuming as the Infant we hasten to adore. Fully divine and human is our life not an idea.
Photo of St. Basil
from
catholic-forum.com
.

Photo of St. Gregory
from
traditioninaction.org